Before we begin I want to state that I am not a realtor nor am I a real estate investment advisor or a layer.  If you need any of those people you should contact them.  To calculate the profitability of a potential rental property you need a few numbers:
Price of the property
Estimated Monthly Rent
Interest rate on loan
Amount of downpayment
Property taxes
For an example let us use this property: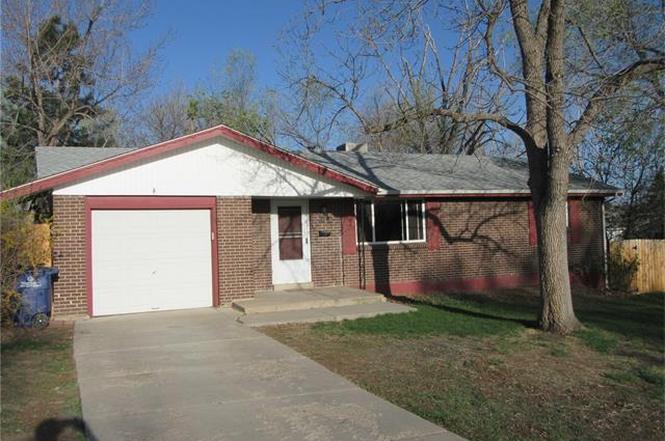 List price is $225,000.  There is a slight problem you will notice in the description that this house probably has structural issues.  For the sake of argument I'm going to assume that we want this property for it's monthly return on our investment and not for the value of the asset.  I'm not going to live here and so long as it isn't going to be condemned in the next few years I'll take the low price as that helps my profitability and pass the low price onto the next buyer in several years.
For the estimated monthly rent I'm going to let zillow help us out.  They do a good job of letting us know what a house of about this size in this neighborhood will rent for.  Zillow estimates with their Rent Zestimate that you can rent this house for $2000/mo with a range from $1700/mo to $2500/mo.  We should be conservative and pick that lower number because from the look of the pictures this is not a prime rental.  Here is the link for the listing on zillow.
Next to calculate the interest rate I'm going to also be conservative and go with an easy round number of 4%.  This is something that changes and will depend on your credit worthiness but for sake of argument lets say it is 4% because right now it is a bit lower than that.
To calculate what our monthly payment on the loan is we will need one more datapoint, how much we can invest.  For the sake of argument lets say that we have $40,000 to put down on this investment.  Here is the formula you can use to calculate the monthly payment (in python):
def

pmt

(

loan

,

months

,

rate

)

:

""" Calculate monthly payment for loan """

c

=

rate

/

12

# monthly rate

return

loan

*

(

c

*

(

(

1

+

c

)

*

*

months

)

)

/

(

(

1

+

c

)

*

*

months

-

1

)
For our example we will get a 30 year loan for $185,000 ($225,000 – $40,000) so the number of months is 360 (12 * 30).  The result is a monthly payment of $883.21
In

[

4

]

:

pmt

(

185000

,

360

,

0.04

)

Out

[

4

]

:

883.2182966110896
The last thing on our list is property taxes.  For simplicity we will use that Colorado has an average property tax rate of  0.63% – Source.  If we put in the specific zip code we get an average property tax rate of 0.697% in Jefferson county.  We will assume that after we purchase the property they will assess the home at the price we purchased it for, $225,000.  This will result in an annual property tax of $1,568.25, or $130.69/mo
One more thing.  For the sake of argument we will assume that we will have the property managed by a management company that will deal with getting new renters and answering phone calls.  We will nominally set this to be 10% of the rental income.  That is easy because we are going to try to rent at $1700/mo so our fee should be $170/mo.
So now we have all the data we need to make an estimate.  We add up all our calculated expenses for the year and we multiply to calculate how much rent we could take in during a year.
In

[

10

]

:

(

883.2182966110896

+

170

)

*

12

+

1568.25

Out

[

10

]

:

14206.869559333074
This means that we will take in $20,400 and pay out $14,200.87 in a year.  This is not counting other expenses like homeowners insurance, broken appliances, and time spent paying the bills without a renter while the property is on the rental market.  The profit for the year is only $6193.13.  The metric that these sort of deals is measured on is called "cash on cash" meaning the amount of yearly profit divided by the amount of money you put down to begin with to start this investment (the down payment).
In

[

13

]

:

6193.130440666926

/

40000

Out

[

13

]

:

0.15482826101667316
15% annual return on your money is much better than any saving account is going to give you.  Let me remind you that I am not a layer, investment advisor, or realtor and if you need one of those you should contact one.